Dr. Korboi N. Evans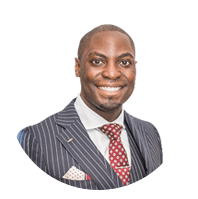 Dr. Evans is a board-certified joint replacement specialist. He specializes in joint replacement and joint preservation surgery of the hip, knee, and shoulder. He has a special interest in minimally invasive, muscle sparing joint replacement surgery. He is adept in muscle sparing direct anterior hip replacement surgery allowing for a faster recovery and a quicker return to an active lifestyle. He incorporates the latest technology in the form of robotics, computer navigation, and custom knee replacements to ensure accuracy and improved results. He also specializes in Sports Medicine and the arthroscopic treatment of shoulder and knee injuries to restore function and mobility.
Dr. Evans is a graduate of the University of Akron and received joint Master's and Medical degrees from Case Western Reserve University School of Medicine. As an officer in the U.S. Army, he began his medical career at Walter Reed Army Medical Center. He underwent advanced training in joint replacement surgery at the Rubin Institute for Advanced Orthopaedics affording him the ability to treat all forms of joint arthritis. These advanced techniques allow for the restoration of function and improvement in patient quality of life. He served as an Assistant Professor of Surgery at the Uniformed Services University and published several scientific articles related to the care of the combat-injured and the management of musculoskeletal conditions. He is fellow of the American Academy of Orthopaedic Surgeons, diplomate of the American Board of Orthopaedic Surgery, and a member of the American Academy of Hip and Knee Surgeons.
Dr. Evans has extensive experience as an Orthopaedic surgeon in both civilian and military settings. He deployed to Afghanistan in support of Operation Enduring Freedom and served as a commander of a Forward Surgical Team and a Combat Support Hospital. He was awarded the prestigious Bronze Star for meritorious service and exemplary achievement in a combat zone. While at Walter Reed, he was intimately involved in the care of wounded warriors returning from Iraq and Afghanistan. This unique experience has enhanced his practice and forged his commitment to provide compassionate and comprehensive care to his patients. He continues his commitment to service as an advocate for veterans and military families.
PROCEDURES/SPECIAL INTEREST
Makoplasty Robotic Hip and Knee Replacement
Computer Navigated and Patient Specific Hip and Knee Replacement
Custom Knee Replacement
Direct Anterior Hip Replacement
Minimally Invasive, Muscle Sparing Joint Replacement
Outpatient Joint Replacement Surgery
Revision Hip and Knee Replacement
Partial Knee Replacement
Sports Medicine
Arthroscopic ACL Reconstruction and Meniscal Surgery
Arthroscopic Rotator Cuff and Labral Repair
Tendon and Ligament Injuries
Platelet Rich Plasma Injection
Adult/ Pediatric Fracture care
General Orthopaedics
MEDICAL TRAINING
2016 – 2017

FELLOWSHIP
Adult Hip and Knee Reconstruction
Rubin Institute for Advanced Orthpaedics, Baltimore, MD

2006 – 2011

RESIDENCY
Orthopaedic Surgery
Walter Reed Army Medical Center, Washington, DC

2005 – 2006

INTERNSHIP
Orthopaedic Surgery
Walter Reed Army Medical Center, Washington, DC
PROFESSIONAL EXPERIENCE
2017 – Present

Orthopaedic Surgeon
Adult Hip and Knee Reconstruction, Sports Medicine
Greater Washington Orthopaedic Group, Silver Spring, MD

2012 – 2016

Staff Orthopaedic Surgeon
Fort Belvoir Community Hospital, Major U.S. Army, Fort Belvoir, VA

2011 – 2016

Staff Orthopaedic Surgeon
Walter Reed National Military Medical Center, Major U.S. Army, Bethesda, MD

2011 – 2012

Deputy Commander of Clinical Services
Deployment, 10th Combat Support Hospital, Shindand Role II, Afghanistan
To know more about Dr. Korboi N. Evans please click the below listed links